Whether you want to be close to cosy restaurants, cafes
and other romantic attractions or you simply want to enjoy
the romantic atmosphere of a boutique flat in London's
prime locations with your loved one, choosing to spend
Valentine's day at one of our properties is a brilliant idea.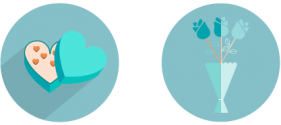 And did we mention there will be a chocolate box
and a flower bouquet awaiting you arrival?
A real Valentine's day treat!