London's bustling Portobello Road Market continues to grow as an attraction for the city's visitors and locals. Located in the famous, high-end neighbourhood of Notting Hill, the market attracts people from around the world. The market includes more than one thousand vendors of a seemingly endless variety of goods. Billed as the world's largest antique market, visitors often book London vacation apartments in Notting Hill to make it easier to enjoy multiple extended excursions to treasure hunt at the Portobello Road Market.
Endless Antiques
Whether you love antiques or simply love adventure, Portobello Market offers plenty of attractions. Pick up quintessentially English items for gifts or souvenirs. Walk through the busy stalls and wonder about the history of the items displayed. Whatever your shopping goals, the market's variety of antique art, jewellery, housewares, and collectables, is sure to have plenty to tempt you. Flea market finds provide a fascinating shopping option as well as a unique perspective on London life and history.
 More Than Antiques
If collectibles aren't your thing and you don't care to ship home a vintage tea set, there is still plenty to enjoy. In addition to an excellent selection of quality souvenirs, Portobello Road Market is known for the variety of its offerings. Find the latest fashions for sale or, if you prefer vintage clothing, you'll also find a wide selection to explore. The largest selection of clothing is located at the end of the market near the Ladbroke Grove tube stop.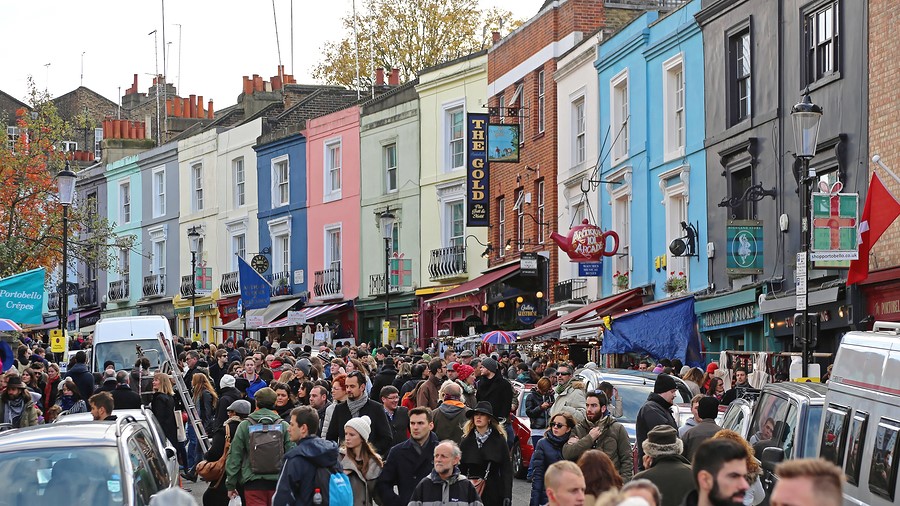 Bountiful Food
It is important to keep up your strength when faced with a marathon of shopping and people-watching. Fortunately, Portobello Road Market and Notting Hill have that covered. Cheap food stalls offer a huge range of international offerings, making it easy to eat as you wander the market – plenty of delicious snacks on offer. For fancier fare, check out the fantastic gastro pubs in Notting Hill. You'll find an exceptional range of offerings of British and international cuisine in a uniquely London setting and atmosphere.
 Notting Hill
The Portobello Road Market is fascinating to explore, but don't overlook Notting Hill, itself. This world-famous part of London is filled with an exciting collection of speciality shops and fine restaurants. Don't miss the colourful row houses and shops, perfect for feature photographs on your social media page.
 Getting There
Accommodations near Notting Hill are a great starting point for your Portobello Road Market adventures. If you're coming from elsewhere in London, take the tube to the station at either Notting Hill Gate or Ladbroke Grove. Keep in mind that although Notting Hill is always an exciting and bustling location, the full Portobello Road Market is only on Saturdays. The rest of the week a limited number of stalls are still available as well as the streets great selection of brick and mortar shops. Go on a non-Saturday to get a sense of the area and enjoy a slower-pace day exploring. Reserve your London holiday home today, and begin your adventure!